LEL 2022:

Christoper Weber on his 1500km long distance cycle ride from London > Edinburgh > to London in less than 120 hours

This year's LEL 2022 edition took place from 7 to 12 August. LEL is a 1500 km long race across the United Kingdom between the famous capitals of England and Scotland. LEL is not a cycling race of the classic kind with support vehicles on closed-off tracks, it is an audax event (endurance challenge) for self-supported cyclists, who use it to demonstrate not only their physical and mental endurance, but also their independence within a tight time limit.

Besides the impressive Trailer of the organizers, we interviewed our partner Christopher Weber about how he fared on his tour.
Photos: Cheerful before the start – Already back to England in the dark of night

CHRISTOPHER, WHAT INSPIRED YOU TO PARTICIPATE IN LEL 2022 AND HOW DO YOU MANAGE TO BALANCE YOUR TRAINING TIME WITH FAMILY, JOB AND POSSIBLY OTHER HOBBIES TO GET PREPARED FOR SUCH A SPORTING EVENT?
LEL is certainly one of the most famous ultra long distance events and therefore attracts riders from all over the world. I have met Argentines and Australians, Latvians and Japanese, Malaysians and US Americans, Italians and Norwegians, Indians and South Africans. The passion for the challenge, for the long distance, for this very specific experience unites the participants, despite all the differences in terms of culture, but also in terms of having a specific cycling experience. It is a different thing for a Malay to ride through the night at 6° C than for a Norwegian. It is different for an Indian to ride through 37° C midday heat compared to a North German. Wind and mountains are also felt differently depending on experience.
At the same time, LEL is organized by an association with the help of volunteers. It is not an event with an all-inclusive carefree package and a corresponding sense of entitlement on the part of the participants, but a friendly, enthusiastic and inspiring event.
I found all of this very attractive. Add to that the fact that 3 years ago, when I signed up, I was reasonably in shape and a bit overconfident. Well what has happened since then, we all know only too good unfortunately. And last but not least, it was not conducive to my sporting form, so I went with some fear of my own courage to the start. Because more "training" than commuting to the office or sometimes at 6am a quick round or sometimes a "Weekend-Warrior" ride was simply not there for me last year. But accordingly intensely I have done the weekend rides.
Photos: The Wolds – altitude progress – English high moors

HOW DID YOU REACH ENGLAND WITH YOUR EQUIPMENT AND HOW DID YOUR START WENT ?
On Friday I went to England with the car, the ferry and my bikes. Registration and last test drive on Saturday, check the equipment and the bags three times and repack and then I put my legs up properly and strengthened myself with fast food
We started on Sunday from 6 o'clock, I had got my desired starting place at 9:45 o'clock. I found quite good to be able to sleep in. In addition, I could overtake more riders at the start than vice versa, which I found psychologically helpful. I was incredibly relieved when it finally started, because I don't know myself as excited as I was before the start. I think it's known reasonably well how calm I usually stay around negotiations … but this was really, really far out of my comfort zone.
Because you have to be able to help yourself at any time on the course, a fair amount of brain power went into the equipment. For example, I had tools, spare parts, spare rear lights, a self-soldered charging station for the dynamo, a rescue bivy sack, sports headphones and about 45 other things with me.
Photos: 48h/ 750km – Hi there! – Sprint through a village

1500 KM IS A LONG DISTANCE. HOW DID YOU FEEL ON THE TOUR AND HOW DID YOU MANAGE THE INDIVIDUAL STAGES?
I wanted to gain a nice time pad at the beginning to take the pressure out of the time limit. So I managed 360 km in the first stage and after a short sleep a good 420 km in the first 24 hours. From there it became very, very hilly, it went through high moors, The Wolds and through the Northern Pennines, a low mountain range, and then already to Scotland, in the so-called Lowlands. But I didn't found them that low. After another 2 hours sleep and a total of 48 hours, the iconic bridges over the Firth of Forth behind Edinburgh were already in my sight!
Behind Edinburgh was the turning point. From there the route led through the middle of the beautiful but very busy Edinburgh back into the mountains and back to England, where I then reached a checkpoint again on Wednesday morning around 3am. Unfortunately, it was overcrowded, so that I only had a sleeping place outside. Sweating and at a few degrees and two blankets weren't enough, so I got up a bit undercooled and after 2 hours I was on my way again. After 3 hours in the first night and 2 hours in the second night that was a bit little sleep and I had to rest several times next to the trail on some meadow. In the area also fell probably the most strenuous stages of the tour, there were steep climbs through the Northern Pennines and then also through the Howardian Hills to cope. Pushing would have been smarter, but you are a cyclist …
Anyway, by then I had experienced a very comfortable time cushion and I could switch to the mode "enjoy". From then on, I ate as much as I could at absolutely every route control, so mostly two main dishes and dessert. Every 200 km or so, I also took an anti-cyclical nap for about 2 hours, so I wasn't disturbed by snorers. So I made good and steady progress and the time limit was never really in danger. But then the usual long-distance aches and pains came up. Sure, the seating area and the hands and sometimes the feet, or the knees, or a shoulder or the stomach. There is always something. But the hands have properly got something damage on the Scottish humps. It was very difficult to change the tire at the first puncture and not easier at the second puncture. But apart from that, I was spared any technical difficulties.
I am attracted by the electronic gearshift, without which the hands would have had even more to do. In addition, the battery is still more than half full after more than 1,500 km. And was switched on the route with over 14,500 meters of altitude, of course, quite neat.
Towards the end of the tour there was some real, real fun again, both through the area of The Fens (a flat, windy area with meadows, canals and windmills), and through the area around Cambridge and towards the finish it was either flat or just undulating enough to be challenging, but without any more double-digit climbs. And finally with another luxurious 3,5 hours sleep, I then tackled the last 110 km on the last morning at a nice average speed. On the last 50 km you are anyway carried by the euphoria and so I arrived with a big grin and sprinting at the finish.
Photo: All controls stamped!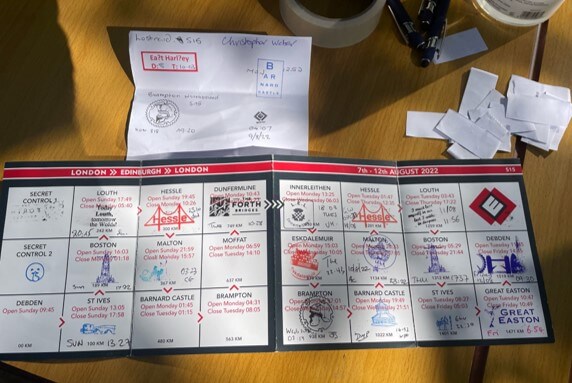 LEL 2022 IS CERTAINLY A GREAT TEST FOR MENTAL AND PHYSICAL RESILIENCE, USING SKILLS AND EXPERIENCE. ALL RESPECT AND CONGRATULATIONS CHRISTOPHER, YOU MADE IT! WHAT WAS GOING THROUGH YOUR MIND AT THE FINISH LINE AND HAVE YOU RECOVERED FROM THE EXERTIONS IN THE MEANTIME?
Before the strt I didn't expect to be able to finish. There are simply too many things that can go wrong on such a long ride that you can't control yourself. It was also questionable how I would cope with the lack of sleep. And my longest ride before wasn't even a third as long. And after all, only half of the participants make it to the finish line within the time limit, and they are no beginners at all …
But the doubts were all blown away once the ride started. From then on, I didn't doubt for a second that I would make it. I believed so strongly in success with everything I had that it felt like certain knowledge. So even with the lack of sleep and the effort, I never got into mental trouble, never looked up train connections or dithered, but always just thought about the next step. I think this subjective component made it objectively easier for me in the end. And physically, you can say it in the immortal words of legend Jens Voigt: "Shut up, legs!" Except that at some point that was no longer enough, but a few more body parts had to be enumerated.
At the finish line, I wasn't proud or relieved or anything else that you could be put into words so specifically. I was just unbelievably happy. Any pride would also be opposed to the fact that LEL as a challenge teaches you a fair amount of humility. I recovered amazingly fast. Basically, I caught up on sleep.
I couldn't have made it without the many cheering and funny messages of family, friends and colleagues from home and the kindness of strangers, whether by helping me to change a tyre or just having a nice chat during a night that dragged on like chewing gum. There were many absolutely fascinating sights and things that happened, both in nature and in purely human terms. I will definitely think back on this experience for a very long time.