Dr Katharina Brandt
Lawyer
Vita
My name is Katharina Brandt. Since my admission to the bar in 2021, I advise and represent national and international companies in various industries in all areas of intellectual property rights. I have been working as a research assistant at Kather Augenstein since 2016, in addition to my studies and while completing my doctorate.
During my studies of law with a focus on information, telecommunication and media law (ITM) at the Westfälische Wilhelms-Universität of Münster, I completed additional studies in intellectual property law.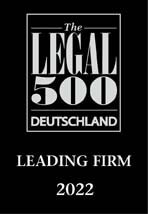 Kather Augenstein offers excellent advice with focus on the client's specific needs and on possible future legal action.
After passing the 1st state examination in 2016, I completed my doctorate at the Westfälische Wilhelms-Universität Münster in the field of patent law with Prof. Dr. Thomas Hoeren on the topic "The product-by-process claim in the system of German patent law".
After successfully completing my doctorate in 2018, I gained extensive experience at an international commercial law firm as well as in the legal department of a Dax company in Düsseldorf during my legal clerkship at the Higher Regional Court of Düsseldorf and further deepened my specialisation in intellectual property law.
Representative cases

Participation in preliminary injunction proceedings concerning medical devices (LG Düsseldorf, GRUR-RS 2022, 32773 – Catheter conversion).
Participation in a series of patent infringement actions for the infringement of 10 standard-essential patents at two court locations – 5G
Participation in proceedings for vindication of several national and international patent applications for an inventor of a novel drive technology
Participation in patent infringement proceedings concerning a telematics product of a leading automobile insurer
Publications

Liability of persons acting in the case of IP right infringements, MarkenR 2022, pp. 2-10 (co-author Miriam Kiefer LL.M.)
No discontinuation of compulsory enforcement for licence unwilling parties, OLG Düsseldorf, order of 14.07.2021 – I-2 U 13/21, GRUR Prax 2021, 636 (co-author Dr Christof Augenstein)

Solomonic comission? The EU communication on standard essential patents, Mitteilungen der deutschen Patentanwälte, April 2018, 153-156 (co-author Christopher Weber)

The product-by-process claim in the system of German patent law, Peter Lang, Europäische Hochschulschriften Recht, Band 6054, 2018