Special honour –

Kather Augenstein receives Imapct Case of the Year Award at prestigious Managing IP EMEA Awards 2023

Kather Augenstein has received a special recognition with the "Impact Case of the Year – Heitec v Heitech Promotion" at the 18th annual Managing IP EMEA Awards, held in London yesterday, 21 June 2023. Our IP Boutique was among the prestigious European IP and law firms honoured at last night's festive award ceremony.

Each year, the Manging IP EMEA Awards honour the in-house teams, law firms, lawyers and companies that have been significantly responsible for the most innovative and challenging IP work in the past year, driving the international market forward.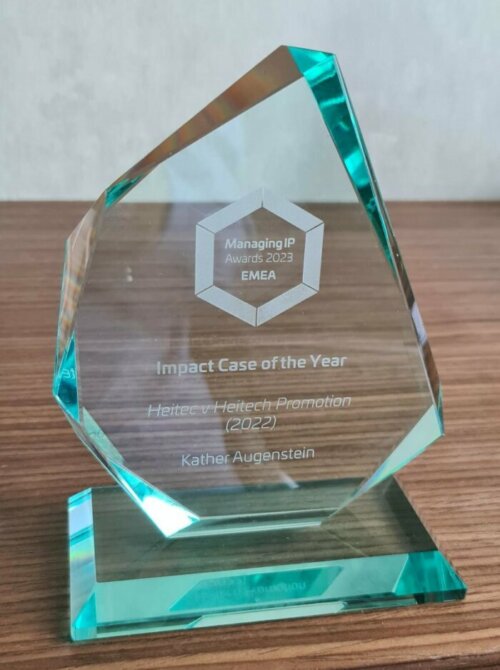 Commenting on winning the award, Dr Christof Augenstein said: "We are delighted to have been honoured as one of the winners of the European Impact Cases of the Year at the Managing IP Awards 2023 in the trademark case Heitec v Heitech Promotion. I was personally involved in this lawsuit from the beginning, which we successfully brought to a close earlier this year after several instances before the Federal Court of Justice and the European Court of Justice after almost nine years. It is a great honour that our work has been recognised with this award."
Detailed background information on the case can be found in the news and blog section.
A full list of award winners can be found here.