Vita
My name is Peter Kather. I am founding partner of Kather Augenstein and have over 30 years of experience in advising and litigating in the field of intellectual property.
The focus of my work is on technical IP rights. I have handled hundreds of patent infringement cases in the first and second instance before the Regional Courts and Higher Regional Courts and accompanied in the revision instance at the Federal Court of Justice.
The spectrum of my work ranges from mechanical engineering and telecommunications to chemistry and biotechnology. In addition to the infringement proceedings, I am involved in parallel opposition proceedings before the DPMA and the EPO as well as in nullity proceedings before the German Federal Patent Court (BPatG) and the Federal Court of Justice (BGH). A particular focus of my work is on cross-border proceedings, of those I have been in the lead of numerous in Germany and have coordinated internationally.
My assistant is Lydia Giesert.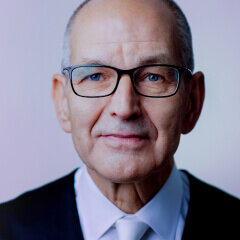 Looking back at the development of Kather Augenstein since its founding, I am pleased that we have established ourselves at the top of the market.
I see my main role as working out the best arguments together with the clients. Close cooperation with in-house or external patent lawyers is an important piece in the mosaic of understanding the various technical issues and being able to communicate them to the court.
In addition to forensic work, I regularly give lectures at seminars and conferences. Due to my many years of experience, I am also more and more requested to act as an arbitrator.
Representative cases

Patent dispute summary proceedings on distress call technology on behalf of an automobile manufacturer against a patent licensing agency

International patent disputes in the telecommunications sector (FRAND)

Equivalence as per the BGH "occlusion device" (Higher Regional Court [OLG] of Dusseldorf, GRUR-RR 2014, 185, "toilet seat hinge")

International patent litigation on biotechnological vaccines for animals

International patent litigation over "click" technology for floor coverings

Summary proceedings for recently issued patents (OLG Dusseldorf, MittdtPatA 2011 193, "urinary catheter kit")

Patent dispute over information rights in summary proceedings (OLG Dusseldorf, GRUR-RR 2011 81 "floating calliper disk brakes")

International patent litigation on sole structure in footwear

International patent litigation concerning medical devices (eg stents, thermocycler)

Proceedings concerning the EU-wide conditions for the registration as a Community trade mark for traffic enforcement, to be regarded as descriptive (CFI BeckEuRS 2011 579031)

Patent dispute series on remanufactured printer cartridges for inkjet printers

Long-term representation of a pharmaceutical manufacturer in disputes concerning permissible advertising claims

Patent dispute on behalf of a Japanese automobile manufacturers on hybrid technology

International patent dispute over the eligibility of patents (rei vindicatio) on transponder technology

Systems dispute between automobile manufacturers (BGH, GRUR 2006, 131, "side-glance mirror")

Permissibility of national border seizure against infringing parallel imports (BFH, not published)

Patent litigation against illegal re-importation of pesticides (BGH, GRUR 2000, 299, "Karate")

Dispute on inventor remuneration for the managing director of a KG (BGH 1990, 193 "car child seat")
Publications

The enforcement of decisions of the unified patent court, commemorative publication for Meier-Beck, GRUR 2021, issue 2, Dr. Christof Augenstein, Dr. Peter Kather

Damages in the case of patent infringements in Germany – also from an external perspective, commemorative publication for Rojahn, Munich 2020, Dr. Peter Kather, Miriam Kiefer

The tasks of the patent attorney to acquire and defend patents, commemorative publication on the occasion of the 50th anniversary of the Order Concerning Patent Attorneys on January 1st, 2017, April 2017, p. 237-249, Dr. Peter Kather, Jonas Block

Invention during cross-border cooperation, commemorative publication on 80 years of patent jurisdiction in Düsseldorf, 10/2016, p. 231-244

Compensation after patent infringement – the German praxis! EU- conformal? UPC- conformal? VPP newsletter 2014, p.28 [German]

Prosecution History, In: On the Brink of European Patent Law (commemorative publication for Brinkhof), Dick van Engelen (Ed.), 2011

The patent owner, the viewed, the expert and his expert opinion. In practice occurring questions during the implementation during the inspection proceedings with the help of an expert; Notice of the German patent attorneys, Munich, 2010, p.325 [German]

The patent infringement reproach as legal deficiency? commemorative publication for Wolfgang von Meibom for his 65. birthday, 2010

The expert opinion is standing in front of the door? What to do? – a contribution to inspection claim after the enforcement guideline, VPP newsletter 2009, 2 [German]

Vidication on a daily basis, commemorative publication for Reimann, Cologne 2009 [German]

The boarder seizure. A blessing against pirates! A nightmare for the possible infringer? commemorative publication for Peter Mes for his 65. birthday, 2009 [German]

Patent Law as an Investment Factor? Economic Law as an Economic Good – Its Rule Function and its Tool Function in the Competition of Systems, European law publishers, 2009

The expert opinion in patent infringement proceedings, commemorative publication for Tilman Schilling, Cologne 2007 [German]

Employer change of experts, know how protection, liability, risks, costs; VPP newsletter 2005, p. 108

The standard of evidence in national proceedings and in proceedings in front of the EPO, commemorative publication for Eisenführ, Cologne, 2003 [German]

Immigration and Nationality Law in Germany, Salzburg, 1992

Patent Infringement Litigation Costs in Germany, Longman, London, 1987

The codex of the United Nations about the limitation of competitive business practices, Munich, 1985

 

 
Lectures

PAe Westphal Mussgnug worksho (online), "§ 139 PatG and the patent law modernisation act" (co-lecturer Miriam Kiefer, Kather Augenstein), 11 February 2021

PAVIS seminar (online) "The ZPO in patent nullity proceedings" (co-lecturer Christopher Weber, Kather Augenstein), 26. January and 02. February 2021

DAA seminar (online) "Enforcement and defence of patent claims" (co-lecturer Prof. Dr. Dr. Uwe Fitzner, Meissner Bolte, Düsseldorf), 10 November 2020

DAA seminar "Right to the invention and know-how" (co-lecturer Jens Kunzmann, CBH Rechtsanwälte, Cologne), Hamburg, 7 November 2019

UNION-IP practice talk "The trade secret as an effective industrial property right", Hamburg, 28 October 2019

VPP conference "The infringement process" (co-lecturer Dr. Christof Augenstein, Kather Augenstein), Ulm, 19-21 September 2019

Audi practical seminar, 14th Berchtesgaden Dialogue "Protection of secrets and the new know-how directive", Berchtesgaden, 26-28 May 2019

Cologne symposium on trade mark and competition law "The protection of trade secrets, system and procedural enforcement", Cologne, 8 February 2019

PAe Winter Brandl "The EU Directive on the protection of know-how and the Düsseldorf Survey Procedure", Munich, 28 September 2018

The infringement proceeding, VPP- seminar Mannheim, 15-17 March 2018

Verify this – obtain evidence, secure and manage it, UNION-IP expert talk, Munich, 26 January 2018

German and UPC patent infringement litigation proceedings, Seminar, Akademie für Fortbildung Heidelberg, 22-24 November 2017

Litigating in front of the Federal Patent Court according to German law, INGRES, Zurich, 8-9 September 2017

Confidentiality and non-disclosure agreements in front of public courts, Patent days Düsseldorf 2017, 23-24 March 2017

The infringement proceeding, VPP- seminar Mannheim, 26-28 January 2017

The insprection proceeding – from the beginning, VPP fall seminar, 27-28 October 2016

Enforcement of patent infringement claims, German Lawyers' Academy, Frankfurt, 04 December 2015

Strong patents as a basis for a successful patent litigation, from a lawyer's perspective, epi Seminar Cologne, 13 November 2015

European Judges Conference 2015, mock trial under UPC rules, Venice, 23/24 October 2015

Rights to an invention, and usurpation; German Lawyers' Academy, Stuttgart, 18 September 2015

Proceedings before the European Patent Court, German Lawyers' Academy, Mannheim, 8 May 2015

KIPLA Korea, international mock trial under UPC rules, mixed international team, Seoul, 23 April 2015

10th Anniversary Japan IP High Court, international mock trial on patent infringement, German law view, Tokyo, 20 April 2015

Equivalence in patent law, Düsseldorf Patent Law Conference 2015, 19 March 2015

Who are the liable parties in the case of patent infringement? Pavis Forum, Starnberg, 5 February 2015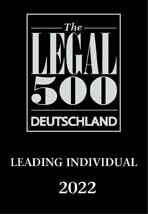 Peter Kather stands out due to his great experience and calm negotiation skills.