IAM Patent 1000 –

Kather Augenstein anew among the world's leading patent professionals 2023

We are pleased that Kather Augenstein has been selected again by IAM Patent 1000 The World's Leading Patent Professionals as one of the world's leading law firms in the field of patent infringement in the current 2023 edition.

The IAM Patent 1000 ranking focuses on law firms and individuals who are considered to have excelled in the key area of patent law. As with previous editions, for the 2023 rankings, IAM again conducted extensive qualitative research to identify the top law firms and individuals based on their extensive expertise, market presence and the complexity of their work.

We are delighted that our IP boutique is represented by no less than five experts in the top rankings. Congratulations to our name partner Dr Peter Kather as well our partners Dr Christof Augenstein, Miriam Kiefer LL.M., Christopher Weber and Sören Dahm, who are represented in the current ranking as proven experts in patent infringement.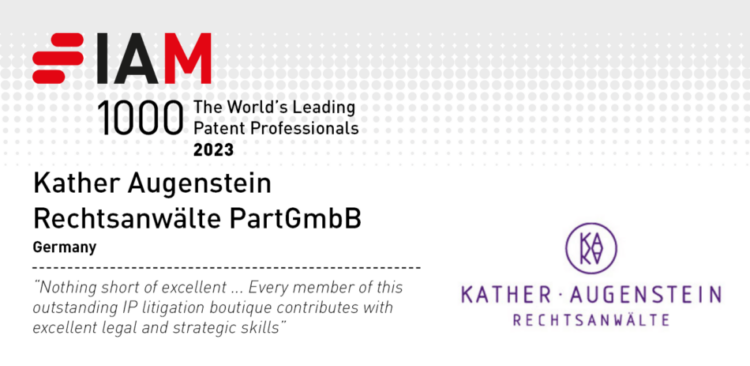 A special thank goes to our team for their outstanding work and to our clients for their continued trust in us.
"Following this year's nominations by IP Stars, top rankings by The Legal500 and Best Lawyers by Handelsblatt, this is a further recognition in 2023 that we and the whole team are delighted to receive," added Miriam Kiefer, Managing Partner, Kather Augenstein.
The full online edition of 2023 can be found here.